Brad Harrington
Brad Harrington joined Shaklee Corporation in 2009 as Chief Marketing Officer. He is responsible for the company's marketing, advertising, and branding efforts.
Brad is an advertising industry veteran with both digital and traditional marketing experience. Prior to joining Shaklee, Brad was Chief Innovation Officer at iCrossing, the largest independent digital marketing agency.
Before joining iCrossing, Brad was president and co-founder of the highly decorated San Francisco-based advertising agency Cutwater.
Prior to launching Cutwater, Brad was co-president of Seattle-based Cole & Weber, where he started one of the first integrated interactive service offerings in the country. He was also responsible for pushing the agency into new and uncharted territories, including branded entertainment, and he designed the first, and now ubiquitous, online cost-per-acquisition program on behalf of his client, University of Phoenix. Because of his achievements, Brad has been called a "marketing visionary" by the New York Post.
Brad has had the great fortune of working with some of the world's most famous brands, including Jeep, Motorola, Ray Ban, Disney, The North Face, LG, Microsoft, Nestlé S.A., Boeing, Dell, Alfa Romeo, Pabst Brewing, University of Phoenix, and Nike.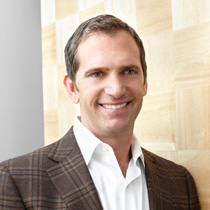 Brad Harrington
Chief Marketing Officer