MEASURING OUR FOOTPRINT
The first step to understanding how to reduce our negative impacts on the planet is to understand what those impacts are. Shaklee calculates its Scope 1 and Scope 2 greenhouse gas emissions every year in accordance with The GHG Protocol by the World Resources Institute/World Business Council for Sustainable Development. Here's a look at our emissions.
Emissions Sources

Shaklee Global Emissions Summary(2010)

Emissions Source(t CO2e)

Purchased Electricity

3,342

85.5%

Stationary combustion

553

14.2%

Mobile sources

11

0.3%

Total emissions

3,907

t CO2e

Reductions from green power

3,342

t CO2e

Reductions from direct offsets

565

t CO2e

Net emissions

0

t CO2e

Green power purchased

8,000,000

kWh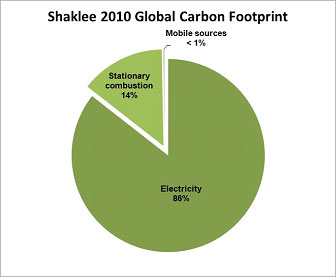 View larger graph.