Please install Flash and turn on Javascript.
Get Involved
What You Can Do
Plant a tree. Change a light bulb. Drive less. Everyone can make a difference and everyone can do their part.
Here are some ways you can help:
Walk this Way
Consolidate errands so you complete them all in one car journey or if possible, ride a bike or walk to your destination.
See the Light
Switch from traditional to energy-efficient, compact fluorescent light bulbs.
Offset your Carbon Footprint
Visit AmericanForests.org to complete the short survey to tally your CO2 emissions and then donate enough trees to offset your carbon footprint. It's so easy!
Clean Up Your Act
Use nontoxic, concentrated cleaners. Try Get Clean™ the new natural line of household cleaners from Shaklee that are safe for you, your home and your planet. At Shaklee we believe that the small act of scouring the sink can be part of the giant act of changing the world. You can make an incredible difference by switching from conventional brands to the Get Clean Starter Kit. You'll eliminate 108 pounds of packaging waste from landfills, 248 pounds of greenhouse gases and have the environmental equivalent of planting 10 trees. To date, consumers who've bought Get Clean Starter Kits have eliminated 4,247,248 pounds of greenhouse gas emissions. To learn more go to ShakleeGetClean.com.
Remember the 3 Rs (Reduce, Reuse and Recycle)
Reduce your consumption of natural resources by reusing and recycling as much as possible. Consider the garbage can a last-resort option to be used sparingly.
BYOB (Bring your own bag)
Whether you're shopping at a grocery or department store, bring your own bag. There is enough petroleum in 14 plastic bags to drive a car one mile.   Keep it for the car by bringing your own bag.
Got a Green Tip?
Send your environmental tips to PublicRelations@Shaklee.com. We'll update this section with additional tips regularly.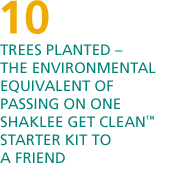 You can also help by
Buying Shaklee Products.
Carbon Calculator
Measure your climate-affecting carbon dioxide (CO2) emissions.
Calculate Your Impact .